Throughout the Bible we are commanded to teach children and answer their questions about spiritual matters:
"Tell ye your children of it, and let your children tell their children, and their children another generation." (Joel 1:3)
"Jesus said unto them, Suffer [allow] the little children to come unto me, and forbid them not: for of such is the kingdom of God." (Mark 10:14)
It is therefore our privilege to share with boys and girls the word of God which is able to bring them into a personal knowledge of the Lord Jesus Christ (1 Timothy 3:15).
Our Sunday school has nine classes, divided according to age from pre-school to high school.  The Sunday school runs each year between September and June from 3.00-3.45pm.
In addition to teaching the children God's word and singing choruses, we operate a Bible Knowledge card scheme and offer a monthly magazine.
At the end of each year there is a prize giving to reward children for their attendance and memorizing Scripture verses throughout the year.
We also organise an annual outing to which we invite all the parents for a great family day out.
We have plenty of room and warmly welcome all young people to our Sunday school.  If you would like your children to attend or would like to have more details on any aspect of our children's work please contact us.  We have two buses as well as cars to transport children to and from the hall.
Click here to view our Child Protection Policy.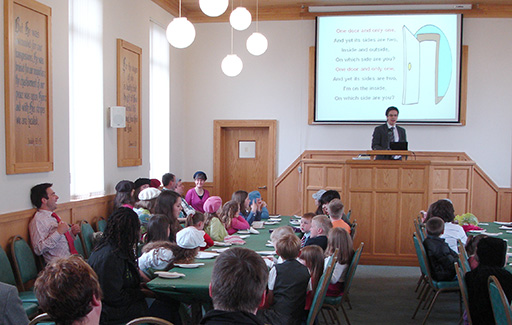 Visit our Sunday School Blog